Why it is necessary to host a WordPress blog on your own domain
Being a blogger or writer, you must be utilizing the free blogging platforms to fulfill some of your online goals such as to get backlinks, content promotion, sharing your ideas on various sites, etc. In the beginning, it is ok, to start with free blogging sites but as soon as you observed that you are getting the good response from the visitors then you need to think of getting your own domain for your site.
Getting your own domain will help to promote your business effectively because people will recognize your business with the help of your domain name. But most of the bloggers fail to know such advantages and opt for free blogging sites instead of getting their own domain. After all, no one wants to deal with the technical issues, especially when you are the newbie looking for writing & sharing of content, by creating your ability in respected fields.
However, if you are looking to design website online, then you are required to host your own blog to get full control and ownership of the site. Due to growing competition, it becomes easy to get a competitive price for hosting and domain. Here you will get to know some key factors of why you should host a WordPress blog on your own domain?
1) Personalize your own domain:-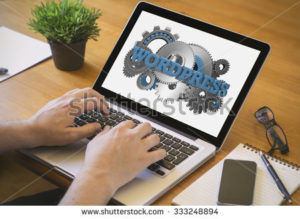 The blogging profession has not set any limit to certain bloggers or sectors, however, it has reached beyond the limit. Writer belongs to any sector can opt for blogging profession, no matter what is the purpose. But today, blogging is all about self –branding. Free platforms like Bloggers & Weebly have billions of users and blog posts, that make tough to stand out in the competition.
Even though if you are taking an effort of writing a fresh content and making the blog live, but the reality is that you are promoting a platform that will not pass any benefit to your blogging profession. And also you are not able to use your domain name as per your choice.
2) Own your blog:-
In free blogging sites, it is not easy to change the domain or move your visitors to another free blogging site, as you don't have full access to those sites. But on the other hand, when you opt for your own domain you get the chance to switch your web designer, web hosting, or any other changes you are looking to make online. However, this will not affect your rankings in the search engine and traffic you are getting on the website. This is only because you are the only owner of your website and domain.
3) Affordable price:-
As I said above, due to heavy competition, you will get the domain at the competitive price. All you have to do is select the best WordPress hosting plan, get your domain name registered and then you are the sole owner of your site along with the source code.
4) Get a web host:-
You will get billions of hosting providers in the market, the only thing you need to do is select the target audience and location of the server and select the provider who offers all the features as per your choice. Nowadays, host provider permits to install WordPress on your website with just one click. And this becomes's easy if you belong to a non-technical background. If you are an expert and aware of technical terms then you can opt for standard WordPress hosting plans.
5) Install the plugin:-
WordPress offers a bundle of plugins that can be utilized to enhance the website performance. In free blogging sites, you cannot use plugins as per your choice, but with WordPress, you get plenty of plugins and themes for your website.
Follow us on Facebook