5 DIY Crafts For your kids to spend this Summer
5 DIY Crafts For your kids to spend this Summer
Kids are nowadays overwhelmed for the "ready to play" environment, where the toys are their best friends. They don't need anyone other than their toys to spend the entire day. Everything is mechanical! But just imagine, how beautiful it could be, if your kids are preparing their own crafts, get engaged in the process and know the value of it by their own experience of making it from the scratch!!! Let us see some of the DIYs that your kids can enjoy thoroughly in making it:
Make a piggy bank out of a water bottle :
Materials required: Empty plastic beverage bottle, craft knife, a pair of scissors, colored paper, pencil, craft glue, transparent tape, hole punch, paintbrush, ear templates, 4 wood beads and orange acrylic paint.
Directions:
With the help of craft knife, cut an 11/2" * 1/8" wide slot in the bottle, about midway between top and bottom.
Cut a strip of orange paper long enough to wrap around the bottle, use a pencil to trace over the slot in a bottle. Unwrap the paper and cut it with the craft knife.
Place the ear template on orange paper and cut it accordingly. Position the ears along the edge of a paper band; say about 1" to each side of the slot. Wrap the band with ears around the bottle, aligning slots on both bottle and paper. Later, overlap the ends of band and tape seam.
Trace around bottle cap on orange paper, cut it out and glue to cap. Use hole punch to make 2blue circles, glue to the bottle cap.
Later, for eyes- use the hole punch to make 2circles of either color and glue them to bottle.
For legs, paint the beads and let it dry. Paste it on the 'belly' side of bottle.
Read more: Top 9 Productivity Tips to Stay Focused Whole Day- stress free
Make a mini Garden with the kids:
There's one big advantage by gardening with your kids, and that is- you learn patience! So, let's see how simple and beautiful it is to create a mini garden along with your kids, which will definitely be a learning experience for everyone!
Materials required: Planter or a pot, fertile soil, flower buds, rocks and if you want to add still more drama to the DIY, you can place a birdhouse and also can decorate it with paint and glitter.
Directions:
Fill the pot with the soil and by using planting tools, root the flower buds or seeds into it.
Arrange colorful rocks and birdhouse on top to make it more attractive.
Crystal Names:
Materials required: Pipe cleaners, Fishing line, Pencils, Scissors, plastic container which is large enough to hold the name, borax, food coloring (optional) and heat safe mixing bowl.
Directions:
Use the white pipe cleaners and form the desired letters of your choice. Once the letter is formed, use the fishing line to suspend each letter a few inches from the wooden skewers.
Now heat a large pot of water to help borax dissolve quickly, you can measure it in the ratio of 3:1 (i.e., 3tablesppon of borax per cup of hot water) and stir it well until the borax dissolved.
Next, add the food colors of your choice it to make it look wow!
The toughest part for kids is to wait now to see the end result. But no choice! They have to keep the container overnight without even touching it and it's a great risk for you to keep it away from the curious hands!
Once you see the glistening letters, carefully tape the letters up in a sunny window to see their effort sparkling.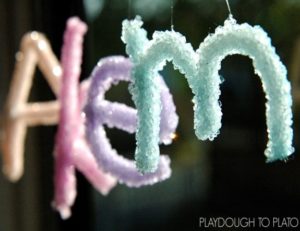 Race soap boat:
Now it's summer and every kid wants to play on this vacation, something new and interesting.
Materials required:
Rain gutter (create an artificial slide, by using a metal sheet or any plastic), a bar of soap, toothpick, fabric and scissors, glue gun
Directions:
The making of this toy is very simple. Cut a triangle out of fabric and glue it to the top of the toothpick.
Then stick the toothpick into the soap bar and there you go!! The soap boat is ready to race.
If your kid is little older, you can help them carve the soap into unique shapes and bring out the best creativity in them!
Stick a hose on the end of the rain gutter which you have prepared and let the race begin!
Rainbow Bubble Snakes:
Materials required: Empty water bottle, duct tape, a sock, dish soap and some food coloring.
Directions:
Start the craft by cutting the bottom of the water bottle off.
Next, slide the sock over the bottle's bottom.
You can use either a rubber band or a colorful duct tape to secure the sock.
You can add some color to the bubble snakes with food coloring to add a little more enthusiasm in the kids. Drop the food coloring onto the sock covered end.
Pour some dish soap into a container with water and gently mix it.
Now, dip the sock covered bubble blower into the solution and gently blow it off.
These are very few games which your kid can make it on his/her own with your guidance and assistance. And that's how you can sort out this summer with your kids. The best gift you can gift to your kids is your precious time! Nothing is worth other than your time for them. Buying ready toys, remote cars, robots etc can only keep them satisfied for a very short period of time. Once, spend your time with them, by keeping aside all your busy schedules. The smile on their faces and the satisfaction you have in your heart is priceless! Give it a try, and see the changes in your kids. Money/goods cannot be a substitute for innocent and pure love!