Bombay stock exchange is also known as Sensex. It contains 30 well-established companies on Bombay stock exchange. The base value of Bombay stock exchange is taken as 100 on 1 April 1979. BSE launched a DOLLEX -30 it's a dollar linked version of Sensex. BSE is a fluctuating market, its capitalization was RS. 15,690 billion (US $ 464 billion) during 2008-2012
ETYMOLOGY
The term Sensex was coined by Deepak Mohini, a stock market analyst. It's a portmanteau of the word Sensitive and Index.
Constituents
Companies listed on Bombay stock exchange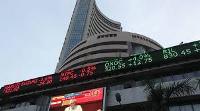 ASIAN PAINTS
AXIS BANKS
ADANI PORTS
BHARTI AIRTEL
BAJAJ AUTO
COAL INDIA
CIPLA
HDFC
HDFC BANK
REDDY'S LABORATORIES
HERO MOTO CORP
HINDUSTAN UNILEVER
ICICI BANK
ITC
INFOSYS
L&T
KOTAK MAHINDRA BANK
LUPIN LIMITED
MAHINDRA & MAHINDRA
MARUTI SUZUKI
NTPC
ONGC
POWER GRID CORPORATION OF INDIA
RELIANCE INDUSTRIES
SUN PHARMA
SBI
TATA STEEL
TATA MOTORS
WIPRO
TCS
How can be a company listed in Bombay Stock Exchange or in Sensex
Listing means the admission of Securities to dealing in a recognized Stock Exchange.
The objective of Listing is mainly as:
Provide Liquidity to securities.
Mobilize saving for economic development.
Protect the interest of investors by ensuring full disclosures.
Bombay stock exchange has set various guidelines that need to be adhered to & submitted by the companies. It includes various stages like:-
Public Issue
Further Opening Issue
Indian Depository Receipt
Qualified Institute Placement
Amalgamation
Preferential Issues
Minimum Listing Requirements for New Companies
Minimum post issue paid up capital of the applicant company must be Rs 300 crore for FPOs (Follow- on public offerings) and Rs 10 crore for IPOs (Issue Public Offerings).
Minimum issue size must be Rs 10 crore or more.
Minimum Market capitalization of the company must be Rs 25 crore
The Promoters applicant and group companies must not be in against of compliance of listing agreement.
Above Eligibility Criteria would be in condition prescribed under SEBI (Security Exchange Board of India) regulation, 2009.
The issuer shall be complying with the regulations applicable to listing bidding inter alia from are:-
securities contracts rules( 1957)
and any other circular clarification, guidelines issued by the appropriate authority
Companies act 1956.
Follow us on Facebook