Microsoft Azure Stack to deploy your hybrid cloud!
Aware of the data security problem for every company, Azure Stack proposes to set up your hybrid cloud using the Azure public cloud platform while maintaining the most sensitive data on a private cloud space. The Azure Stack platform is, therefore, an intermediate solution that brings together in a single interface the management of the public cloud but also a private cloud-specific to a company. Currently, no competitor offers such a solution.
Azure Stack allows from the same platform to run a hybrid cloud by mixing a part of the On-premise infrastructure (in the company or at a datacenter data host) and a space on the Azure public cloud. Far from revolutionizing the IaaS business, Azure Stack is a great way to start the transition of enterprise data to the cloud.
How to use Azure Stack in business?
The evolution of regulations, as well as the expectations of users, is pushing companies to have to evolve but while fearing the various security issues that this can quickly engender (access to sensitive data, protection of devices, etc.). In addition, the RGPD (new European regulation on data management) requires companies to proceed with caution. Companies with sensitive or highly sensitive data are less likely to migrate to the public cloud than others. They can now maneuver peace of mind with Azure Stack! Deployment is indeed behind a much greater barrier of protection than what could be implemented internally and at a lower cost while exploiting a common platform, greatly facilitating the management of the company's cloud.
Carnival Cruise Lines on Azure Stack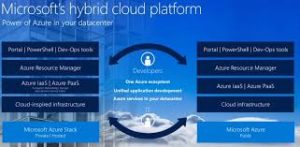 Another use case may be to use Stack as a relay point between on-premise data and a migration to the public cloud as soon as possible for a Hybrid Cloud system. Carnival Cruise lines are one of the first customers to have access to the Azure Stack solution. Cruise ship at sea, Carnival Cruise ships could not connect with the company's cloud platform in the middle of the ocean. An Azure Stack relay was set up, the data was stored on a private cloud within the ship and when arriving at a port they could be uploaded for processing on the public Azure cloud.
Deploy an application in the cloud with on-premise data
Another example of connecting an application to the public cloud. Sometimes the blocking point is not the application itself but rather the protection of user data. In this case, Azure Stack allows the application to run directly on the cloud to optimize application performance while maintaining user data on local servers.
SharePoint Development Services
What is Azure Stack?
Azure Stack consists mainly of 2 big elements:
a server infrastructure located at a Microsoft partner
a Microsoft Stack Licensed Software Solution
The Azure Stack software solution includes a panel of basic IaaS features to create a cloud infrastructure such as virtual machines, storage resources, and a virtual network. But the solution also includes a Platform as a Service (PaaS) service packs for development such as Azure Container Service, Azure serverless features as well as MySQL and SQL server support. The solution is also accompanied by Azure Active Directory for secure user authentication.